License No. 426212097
Capacity: 8 children
Ages served: 14 months–4 yrs
Hours of Operation: 7:00 a.m.–5:30 p.m. (mondays–saturdays)
Education, Experience, and Certifications: see below
Location: Carpinteria/Bailard exit
Phone: (805) 745-1016
Description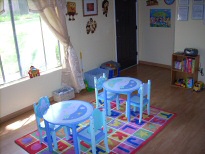 Garcia family childcare welcomes parents to come and learn more about my new role as a child care provider. I am located in Carpinteria, exit on Bailard. I am very excited to be working with children.
My family care center offers to your child an environment that encourages social skills development including independence and respect for self and others. Topics that we are going to study are based on the interests of the children. This includes animals, color, art, crafts, singing and dancing. Fulltime opening are available for (14 months–4 yrs) reasonable rates, and food is included.

      I have a license and am child/infant CPR certified and I am experienced in working with children.
Please call for an appointment
Violeta Garcia