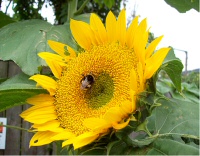 License No. 426213372
Capacity: 6 children
Ages served: 15 months–4 years
Hours of Operation:
Tuesdays through Fridays, 8:45 a.m.–3:30 p.m.
Location: Montecito
Phone: (805) 259-5384
E-mail: sunflowerchildrensb [a] gmail . com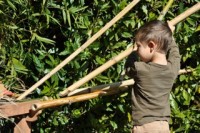 Introduction
Sunflower Children's Garden is a wonder-filled garden-based home preschool, featuring Montessori philosophy and activities within a nurturing bilingual French-English environment.
Philosophy
Children come with a natural inclination for exploration, natural discovery and a sense of wonder for the world around them and all that Nature has to offer.  Sunflower Children's Garden strives to be a place where children are free to be themselves, and learn to discover that which they love.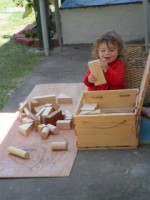 All the while, the children are learning to build strong relationships with peers and adult mentors, and developing nature connection in a beautiful garden setting, tucked in among orange, fig, apple and lemon trees, and in the vegetable garden the children have created over the last two years.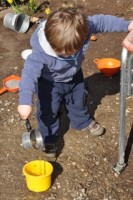 Curriculum moves alongside the children's processes and their unique ability to create worlds of exploration out of the beauty of their surroundings.
Play with hands and heart at the core, using developmentally appropriate materials, and in a nurturing social and emotional environment is the pathway to children to maintain their sense of wonder, awareness, aliveness and sense of connection to the world!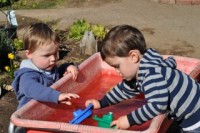 Sunflower Children's Garden aims to balance joyful learning, independent thinking and curiosity, creativity and imagination.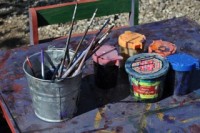 A philosophy of respect for the child and his/her freedom will be woven in as natural part of the daily rhythm.  Daily routines and meaningful activity give the children the message that they are competent beings, and that we entrust them with important tasks.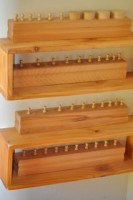 Joyous bursts into spontaneous song in play are natural occurrences daily!!  Always the highlight of the day!
Benefits of a bilingual environment
Maria Montessori believed that the young child's mind from birth to age 6 is the "sensitive period" for language acquisition.  This is the period of life in which the brain is most capable of absorbing one or any number of languages with no effort at all.  Modern linguistic and neurological research confirms her findings.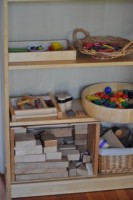 In addition, it's very fun to learn while you paint, sing, play and share meals in a new language, and naturally instills broad cultural sense of the human connection through community.
Ongoing professional affiliations and qualifications
National Association for the Education of Young Children, Member
Phi Theta Kappa Honor Society Member: Santa Barbara City College
Pediatric CPR and First Aid Certified
Green Care Provider
Education
Current:

Wilderness Youth Project volunteer with Kelly Villaruel, Chickadees 3 – 5 year olds.
Women's Economic Ventures: active Thrive in Five participant.

August 2012 and 2013 – Reaching Nature Connection – Nature mentoring for the young child, presented by Kelly Villaruel, creator of the Wilderness Youth Project preschool program, Lia Grippo, founder and director of Wild Roots Forest Preschool, and Erin Boehme, Wild Roots Forest Kindergarten teacher.
Permaculture Design course, with ongoing implementation in the children's garden.  (A cob playhouse and chickens are next on the list!)
Summer 2011 – Jon Young – Art of Mentoring, and well as mentoring by Wilderness Youth Project, in my involvement as a parent.
Permaculture Design course, with ongoing implementation in the children's garden. (A cob playhouse and chickens are next on the list!)
January 2011 – Cultivating the Outdoor Classroom.
Early Childhood Education, Santa Barbara City College, President's Honor Roll. Over 40 units completed in Early Childhood Education, including creativity, language acquisition, infant-toddler development and mentor teacher training.
September 2009 – Director – Sunflower Children Montessori opens!
Summer 2009 – RIE Infant Toddler Conference, "Letting Our Babies Be Babies: Slowing Down in a Fast-Paced World".
2008 – Professional Growth Advisor, Child Development Training Consortium.
Child Development Site Supervisor Permit, Commission on Teacher Credentialing
2007 – I became a mama!
2005–2007 – Lead Teacher (8 children ages 2 1/2 to 4 1/2), Sunrise Montessori Preschool.
2004 – International Diploma in Montessori Pedagogy, Montessori Centre International, London (Assistant Teacher, Orchard House Montessori School).
2002 – B.A. African Studies, University of London.
1998 – International Baccalaureate, Lyçee International of St.Germain-En-Laye, France.
Sunflower Children Montessori Daily Routine
8:45–9:00
Open – Greetings, welcome and arrival
— Free selection outdoor play. Activities may include mud play, water play, paint, clay, planting, weeding, watering, feeding the worms, playing in the mulch under the orange tree, watching butterflies, ladybugs, worms, rolly-pollies and birds, fort building, digging, climbing, exploring, creating, inventing, sun tea making, and much more! —
— Gathering for songs, stories, sharing conversation and time together as a group —
10:00
Nutritious morning snack
10:20–11:45
— Free choice outdoor / indoor play, activities: Practical Life, Blocks, Sensorial, Math, Pre-Literacy/Language, Cultural, plus all listed above! —
— Science, gardening, art, books —
— Music —
11:45
Clean up, washing hands
12:00
Nutritious organic lunchtime with an opening gratitude circle
— Morning session pick-up —
12:30
Clean up, washing up
12:45–3:00
Story and nap
3:00
Waking to a yummy snack and outdoor play
3:15/3:30
Full day session pick-up
3:30
Child care closed
Goals and objectives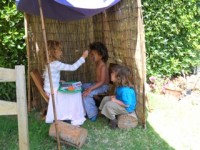 Sunflower Children's Garden aims to become a haven for young children to fulfill their inner potential; a place for self-discovery and an environment in which peace becomes a natural part of everyday life. Through daily interaction with the insects, the plants, birds, trees around us, and how we impact the world around us by our care and awareness, we are all learning – learning how to deeply connect with Nature, and to hear the lifelong teachings it has to offer.
A goal for 2014 is to connect with the elders in our community through visits at local Casa Dorinda, and crafts with wild-harvested materials in our local vicinity, including basketry, cordage, acorn dolls and fairy houses:)
Juliette Lefevre