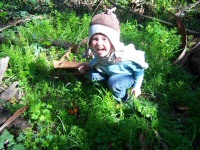 License No. 426210319
Capacity: 6–14 children
Ages served: 1–5 years
Hours of Operation:
Mondays–Fridays, 7:45 am.–5:15 pm.
Location: Goleta (North)
Phone: (805) 968-7838
Experienced Child Care Provider
At a young age I knew I was highly interested in the education of children. Soon after, I enrolled in college and earned the Bachelor of Arts in Early Childhood and Elementary (primary) Education.. I have now worked with children for the last 25 years. During those years I have had the chance to work with a wide variety of children ages 1–17.
From September 2002 to April 2005 I worked locally in Goleta at Village Park Child Care, now known as Steps to Learning Preschool. During those years I was the lead teacher for 10-12 children ranging from 18 months to 3 years old.
In 2006 I opened up my child care, Angel Family Child Care, which is dedicated to children ages 1–5. I feel that this age group needs education the most. My philosophy has grown out of my experience as a teacher and from my education. As a child care provider/teacher, I am actively involved in guiding, stimulating, and encouraging growth in young children.
Through-out the years I have learned that Child Cares need to go beyond learning. Before a child can learn they must feel comfortable in a safe and healthy environment. When the child feels safe and healthy it positively fosters children's social, emotional, cognitive, and physical development. I feel that a positive environment is needed in order for children to fully understand love, encouragement, and respect. Although it is important to teach them curriculum; we owe it to the children to understand them as an individual.
Education, Honors, and Certifications
Bachelor of Art in Early Childhood and Elementary (primary) Education.
Completed more than 40 Units in Early Child Care Education
Currently attends courses in the Early Child Care Education Program at SBCC
Member of the Green Care Program/Mentor
Member of the Santa Barbara Family Child Care Association
Attends Santa Barbara Family Child Care Association annual workshops
Pediatric CPR and First Aid Certified
Earned several certificates from various workshops and conferences specifically for Child Care Providers
Program's Philosophy
AFCC is dedicated to nurturing children's emotional, physical, cognitive, creative and social growth and development. We promote children's naturally active inquiry, exploration and discovery of the world.
My youngest daughter loves it at Angel Family Child Care. It is like a second home for her. I met Sherry in 2003 when my older daughter went to Village Park Child Care Center. Sherry was one of the best teachers at Village Park. A couple of years later I was pleased to hear that she opened up AFCC. Immediately I started taking my daughters ages 4 years and 4 months to AFCC.
— a parent

AFCC prepared my older daughter for Elementary School. Sherry taught her basic number and alphabet skills that she needed in Kindergarten. My younger daughter, who has been going there for 4 years now, comes home everyday with beautiful art. She loves showing us the writing she practices, which improves and expands every week. She knows her alphabet, numbers, every child song, and knows colors and numbers in Spanish.
— a parent
AFCC is committed to supporting children's development and learning. AFCC's daily curriculum includes Music,Dance,Exercise,Arts,English, Science, Language, and Social activities. Every week I plan new activities and explore new topics.
One of my favorite educational activities is teaching the children about different countries. This lesson helps children to become more familiarized with other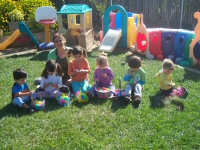 cultures. Weekly teachings include lessons in writing and pronouncing letters, numbers, and common words. The children learn about many different topics like colors, Shapes, animals, and food groups. We also have outdoor time where the children get to run around and have fun. This schedule allows the children to participate in physical exercise. AFCC also has special guests to teach the children about music, dance and Spanish, such as Mr. Putname. Mr Putname brings his musical instruments and puppets for music time with the children.
Education in Math, English, Science, etc. are important, but I also think education in social development is equally important. AFCC is committed in promoting the children's self-awareness, competence, and self-worth. Preschool aged children must be given opportunities to do things and solve problems without intervention from others. Children need to be aided in the development of individual respect and the development of positive self-esteem. Self-determination is the key to building self-esteem. I always encourage children to do things for themselves whenever this is possible. I encourage them to try even when they initially think they can't. Each child is taught to be responsible for completing her or his project and for cleaning up before going on to something else. These tasks will help the children learn how to work together and prepare for Kindergarten.
AFCC is not only dedicated in the educational and social development of the children, but also their health. It is highly important to feed children a well balanced diet that does not have high amounts of sugar or fats. I personally prepare all snacks and meals at AFCC. My meals include organic foods, when available. I also prepare special snacks and meals for our children who are vegetarian.
Child Care Daily Routine
7:45–
Open – Greeting Time
8:00–
Breakfast, may include eggs, fruit, oatmeal, cereal, etc., vegetarian friendly meals as well
• Morning children music
9:00–
Educational time
• Flash cards and other educational games
• Children practice writing alphabet letters and numbers
• Children count numbers out loud in English, Spanish and Farsi.
• Weekly visits with Spanish teacher, children learn common words in Spanish.
• They also practice Farsi on a daily basis.
• Children learn about social skills: how to create great friendships, team work, listening to each other, sharing, cooperation, etc.
9:30–
Circle time
• Science, Nature, and Cultural Education
• Update Calendar
• Story time
• Sing Songs, such as Wheels on the Bus, Itsy Bitsy Spider, etc.
• Periodic cooking time, children help prepare meals on special occasions
• Theatre Arts- children dress up as a theme with a wide selection of dress up clothes
10:00–
Morning Snack, may include crackers, cheese, fruit, vegetables, etc., vegetarian friendly meals as well
10:20–
Arts and Crafts
• Children create collages, paint, draw, color, glue, and work with clay
10:40–
Outdoor Play Time (Large back yard)
• Children play with cars, wagons, and bikes
• Mini playground with slides and tunnels
• Large grass area to run around, play tag, chase each other
• Sand Box with sand toys
• Water table with water toys
• Jump ropes, hula hoops, balls,ect.
11:30–
Music and Movement
• Children listen and dance to music
• Children play musical instruments and dress up
11:50–
Wash hands/prepare for lunch
12:00–
Lunch, may include sandwiches, beef, chicken, soup, spaghetti, pizza, etc., vegetarian friendly meals as well
12:30–
Indoor Free Time
• Reading, games
• Brush teeth/prepare for nap
1:00–
Nap
3:00–
Indoor Free Play
• Reading
• Games
• Dress-up
• Play kitchen with full accessories
• Babies
• Blocks and puzzles
4:00–
Afternoon Supper, may include fish, shrimp, other seafood, noodles, pasta, vegetarian friendly meals as well
4:20–
Outdoor Free Play
4:45–
Clean-up with music
5:00–
Prepare to go home
5:15–
Closure
Special Activities (Parents are always welcomed)
Through-out the year we have Special Activities. These activities include:
Walks to the nearby community park to play
Annual pumpkin patch field trip
Annual Halloween costume parade around neighborhood
Potlucks and BBQs for Families and Friends
Field Trips to Elwood's Butterfly Grove and the Santa Barbara Zoo
AFCC also has weekend family gatherings. All the families here have great relationships with each other. As a family we work as a team and build strong relationships with each other. Once a year we dedicate a full Saturday to improving the child care. In past years children and their parents and grandparents have painted, built sand boxes, installed a water table, built bikes, opened and put together new toys and educational items. These special activities bring much joy to the children.
Sherry Khodarahm