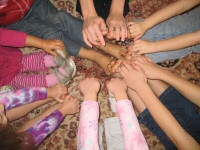 License No. 426203544
Capacity: 14 children
Ages served: 2–5 years
Hours of Operation:
Mondays–Fridays, 7:30 a.m.–5:00 p.m.
Outdoor Classroom Demonstration Site
Location: Santa Barbara
Phone: (805) 963-9681
Professional Profile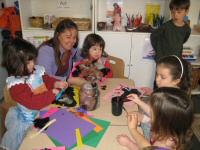 My desire is to provide a safe and healthy environment in which a child can learn and grow with respect and encouragement. I hold a Bachelor's Degree in Early Childhood Education and a Master's Degree in Human Development with an emphasis in Leadership in Education from Pacific Oaks College. I am dedicated to enthusiastic and dynamic teaching as a means of creating and nurturing a child's enthusiasm for life.
Education, Honors, and Certifications
mind without soul may blast some universe
to might have been, and stop ten thousand stars
but not one heartbeat of this child; nor shall
even prevail a million questionings
against the silence of his mother's smile
– whose only secret all creation sings
– from spiralling ecstatically this
— e.e. cummings
Nominated and a Finalist for a Bammy Award for excellence in Preschool Direction.
Nominated for a Bammy Award, honoring education, by the Academy of Education Arts and Sciences, 2013.
California Early Childhood Mentor Program Honor List, 2011.
Winner of the "Susie West Memorial Award" from the Children's Resource & Referral Center of Santa Barbara, 2011 (together with Alma Cabrera)
Master's Degree, Pacific Oaks College, 2009.
Steps to Quality Network, Mentor 2009/10–current.
California Early Childhood Mentor Program, Director Mentor 2010–present.
California Early Childhood Mentor Program, Teacher Mentor 2008–2010.
Winner of the Bright Horizons "Bright Futures" Scholar Award, 2008.
Winner of the Terri Lynn Lokoff Foundation/Children's Tylenol National Child Care Teacher Award, 2008.
Member of the Dos Pueblos High School Arts Advisory Board, 2008.
Child Development Site Supervisor Level Permit, 2007.
Alpha Chi Honor Society Alumni Member: University of La Verne.
B. S./Child Development: University of La Verne, 2006: Magna cum laude, Child Development Honors.
Santa Barbara County Child Care Planning Council-Advocacy Team member, 2006.
Commission on Teacher Credentialing: Child Development Master Teacher Level Permit, 2003; Site Supervisor Permit, 2007.
Child Care Initiative Project: Level 1 Training, 1990/Level 2 Training, 2002.
A.A. Liberal Arts: Allan Hancock College, 1993.
Child Development Associate Credential, NAEYC, 1991.
California Child Care Health Project: Earthquake Preparedness Training, 1991.
Kappa Delta Pi Honor Society Member: Santa Barbara City College.
CPR and First Aid Certified.
Experienced Child Care Provider
Danielle is a dedicated, focused, and compassionate caretaker of children. Her child care program fosters creativity, good communication skills, and positive behavior.
— Amy Birchim, parent
Danielle is energetically involved in her teaching and constantly strives for improvement.
— Richard Foster, parent
I have operated a family child care home for 25 years, 24 years as a large in-home preschool program. I have supervised and trained 23 employees, many of whom have gone on to pursuer a career in Child Development or education, or have opened their own family child care home. I have been an active volunteer in my community serving on many boards including acting as president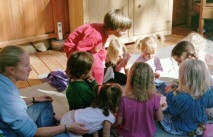 and vice president of the Lompoc Child Care Association and currently I serve as membership chairperson of the Santa Barbara Family Child Care Association. In addition I serve as a mentor to new association members and am a Professional Growth Advisor for the California Commission on Teacher Credentialing.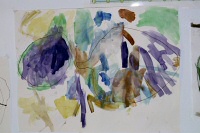 I attend numerous workshops and conferences in my attempts to strive for further professional growth. I am also active within my community in youth theater as secretary of the Santa Barbara Summerstock Theater non-profit board.
Child Care Daily Routine
7:30
Open – set up
7:45
Breakfast
— Self Selected Activities (free time) Indoor —
9:15
Clean up – wash hands
9:30
Morning snack
— Grouptime (stories, calendar, songs, etc.) —
— Art time (painting, clay, collage, etc.) —
(During art children may free play inside or on patio)
11:00
Outdoor play
11:50
Clean up, wash hands
12:00
Lunchtime
— Morning preschool departure —
12:15/12:30
Clean up lunch, brush teeth
12:30–2:30
Story and nap
3:45
Afternoon snack
— Full Day departure —
— Free play (first outside, then indoors) —
4:30–4:45
Clean up / extended care pickup
5:00
Child Care closed
Creative Care for Children
Owner/Operator, Family Child Care Home, 1987 to present.
Santa Barbara Summerstock Theater (Santa Barbara, CA)
Youth Costume Designer, Theater Project, 1998 to present
Santa Barbara Middle School (Santa Barbara, CA)
Youth Costume Designer, Drama Dept., 2001 to present
Dos Pueblos High School (Goleta, CA)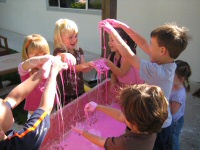 Preschool Aid, 1982–1983
Professional Affiliations
Goals
I aspire to sharing my knowledge in the field with other early childhood educators as a teacher of adults
Continued involvement within the Santa Barbara child care community
Opportunities to mentor and teach others in my field
Continued improvement of my own child care program and expansion of my understanding of child development and developmentally appropriate practices
Philosophy
Imagination in more important than knowledge
— Albert Einstein

If we hope for our children that they will become full human beings and that they will move toward actualizing the potentialities that they have, then, as nearly as I can make out, the only kind of education in existence today that has any faint inkling of such goals is art education.
— Abraham Maslow

Good learning has to do with atmospheres of hope rather than fear; feeling of adventure rather than sameness; and newness rather than custom.
— Unknown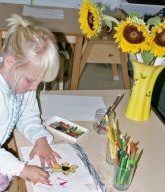 My desire is to provide a healthy and safe school in which children can learn and grow with respect and encouragement. I have been operating a licensed family childcare program for over 25 years and have been accredited since 2002. I provide an environment that encourages children to develop a strong relationship with me and my staff. I ask that children respect their peers and teachers and actively build friendships as they develop social skills such as listening, cooperation, teamwork, and empathy towards others. I model this behavior as I respect each child and demonstrate kindness, caring, and self control in my teaching approaches. By developing a long-term close relationship with each child many behavior conflicts are avoided. I anticipate children's needs and moods, and respond accordingly, keeping their unique personality in mind.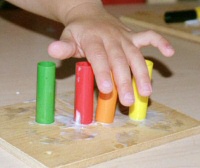 I believe that every child has a unique way of looking at the world and responding to the stimuli presented to them. By offering a process approach, each child in my care is allowed to find their own way to experience the materials made available to them. I look for feedback of what is and is not working, and learn the needs and preferences of each child. I believe that observation is an important tool that enables me to continuously evaluate and adapt the experiences I offer to the children in my care. Because family childcare allows the unique opportunity to work with the same small group of children for several years, I am able to fully bond with each child and develop a stronger awareness of their needs and scaffold their learning.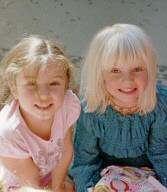 The social, emotional, cognitive, physical, and creative aspects of each child's experience are facilitated through hands-on activities from which the child can absorb new meaning. I maintain close relationships with each child's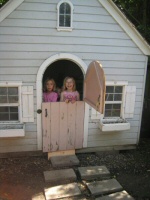 family and have an open dialogue between home and school. Parents are encouraged to share with me what is happening outside of school and I invite parents and caregivers to become actively involved with my school in any way they can. I am committed to teaching with an open mind and forever furthering my knowledge as a teacher of young children by remaining active in my community as a board member of the Santa Barbara Family Child Care Association and other youth organizations, and by taking classes in the field of education and child development and attending workshops. I am committed to offering my community a high quality child care program and to provide the best experience and opportunities possible for the children entrusted to my care. I also teach adults through classes for the California Child care Initiative Project and as a Mentor Teacher for Santa Barbara City College.
Danielle Monroy

Interesting homepages for kids
---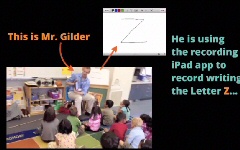 Video: Teaching with an iPad
A presentation video made at Creative Care for Children
Download: 24 MB (takes some time!)
---
Pictures from Yoga class …
Other pictures …
 External blog post