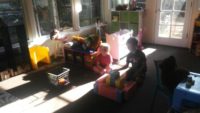 License No. 426215413
Capacity: 6 children
Ages served: infants to 5 years
Hours of Operation: Monday–Friday, 9 a.m.–4:00 p.m.
Location: Turnpike
Phone: (805) 423-3491
External homepage: www.undertheorangetrees.com
Facebook page: UnderTheOrangeTrees
Information
I run a small, home based childcare program for children ages 0–5 years old. There is a beautiful shade speckled outdoor classroom and a sunny playroom.
Developmentally appropriate materials are provided for children to create with and explore.
I provide the opportunities for children to develop and grow, while pursuing their own interests, motivated by their own curiosity, driven by their own ideas.
Please call for more info.
Ildiko Palmer