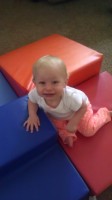 License No. 426214212
Capacity: 4–6 children a day
Ages served: 2 months to 3 years
Hours of Operation: 7:30 a.m.–5:00 p.m. (mondays–fridays)
Location: East Side
Phone: (805) 200-7499
E-Mail: Tlcchildcaresb (at) gmail.com
Facebook: tlcchildcaresb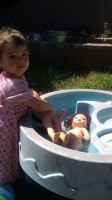 At TLC we explore the surroundings using all of our senses. Providing a natural and rich learning environment that encourages a young infant and toddlers curiosity. TLC influences the growth and development of the "whole child." TLC is here to be responsive to your child's needs to foster a positive sense of self, sense of security and well being.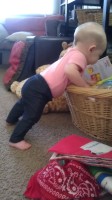 TLC plays a significant role in your infant and toddlers life providing a safe haven and an emotional ground guiding them to build those first long term relationships. Keeping in mind the consistency in plenty of hugs and cuddles throughout the day and provide tender love and care so all children can feel home … away from home.
I enjoy creating the close relationships with the whole family. With low ratio, I take pride in providing quality care for your families.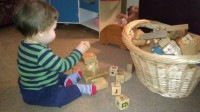 Certified with Green Care Providers, www.greencareforchildren.org, I have pledged to protect the children in my care from danergous chemicals and other heatlh hazards and are setting an example for other providers to maintain healthy early care and education environemnts in SB county!!
Sarah Brewer
Sensory and art daily
Dramatic play, science fun
Open space for children to explore both outside and inside
Infants have separate nap areas to accommodate their individual nap schedules
Predictable routine and rituals for special times throughout our day
Children receive a daily report about their day
Enrolled in food program to provide healthy meals for children after 12months old
Children enjoy music played throughout the day, no media influences
Natural toys for more imaginative and interactive play
Part time and full time options, drop in days available for enrolled families
and more…
Parents Past and Present …
TLC has been an enriching experience for my son Samuel. My husband and I wanted a very nurturing and safe environment for him since it would be his first experience in a childcare setting, and TLC is just that. Sarah is very professional, caring, responsive, and loving. We feel that Samuel has grown both socially and emotionally at TLC while feeling secure and safe.    Sylvie
There is not enough good things I can say about your program! When I began looking for a day care for Hana she was 13 months old and I was scared to death. I remember touring your home admiring your pristinely clean play areas and watching your gentle way with the children and knowing that this was a place I could leave my baby. You taught her to sing her ABCs and Twinkle, Twinkle Little Star. Your no pressure, enthusiastic help with potty training was right on and allowed Hana to be out of diapers before her 2nd birthday. Your celebrated her achievements with her as if she were part of your family and for that I am eternally grateful.      Tamara
Professional Profile
Current CPR/First Aid Certified and Health and Safety prevention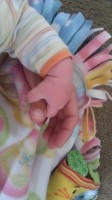 Wife and mother of 4
Over 13yrs exp in the field of Early Childhood education (starting in 1997)
Certificate in Early Childhood Education from SBCC (2001)
Worked at local preschool; Transitions preschool, for 5yrs as a teacher
Served on the board and volunteered for PEP (postpartum education for parents) — 4yrs
Member and serve on the board for Santa Barbara Family Childcare Association